Riu Olivina Resort

Riu Olivina Resort details
Enjoy a tropical oasis as your holiday destination when you choose the Riu Olivina Resort in Playa de los Pocillos, Lanzarote, Canary Islands. It offers visitors a little piece of paradise with a comfortable setting, a relaxed atmosphere, and ample opportunity for you unwind and enjoy some much-needed R&R.
With four beautiful pools surrounded by sun patios and plenty of sun loungers and shady parasols, the outside area of the Riu Olivina Resort is a definite attraction. The pool-side bar serves up snacks and drinks to those enjoying the sparkling blue waters, and there's also a kids-only pool for the little ones to enjoy. If that's not enough, there's a kids' club to keep them entertained when they're not splashing about, and a load of fun on-site activities for the whole family including table tennis and foosball.
Inside, the Riu Olivina offers rooms that are comfortably furnished and feature modern amenities including air conditioning, a small fridge and an appealing balcony or terrace. The apartments, ideal for families and small groups, are furnished in a similar style and come with a fan in the bedroom and satellite TV in the lounge.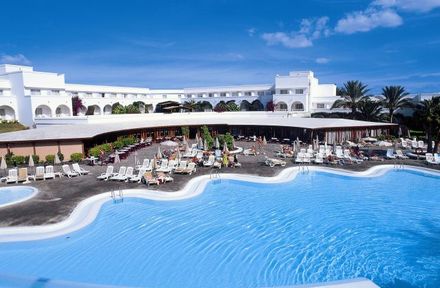 Hotels similar to the Riu Olivina Resort: