Hotel Orchidea Boutique Spa

Hotel Orchidea Boutique Spa details
Stay at the pleasant 4 star Hotel Orchidea Boutique Spa in the resort of Golden Sands, Bulgaria. The hotel is well positioned and is ideal for couples and families looking for holidays in a warm climate.
The Orchidea Boutique Spa Hotel was built in 2007 and occupies a very privileged location ? combining sea breezes with the freshness of the forest, just 400 metres away from the sea, at the beginning of Golden Sands Resort in Bulgaria. Golden Sands has some fantastic facilities including a dive centre, tennis, mini golf, jet skis, sailing and a host of other water sports to keep the whole family busy whilst the historical city of Varna is nearby which, as well as being Bulgaria?s biggest port, is an attractive and cosmopolitan area.
The hotel has 70 double rooms, 9 studios and 1 apartment, all of which are modern in design and equipped with the facilities necessary to make its guests feel at home including air conditioning, cable TV, internet services, a mini bar and a safety deposit box. At the main restaurant and at the garden barbeque guests can enjoy a selection of famous national and European dishes prepared by expert chefs.
The Boutique Spa Hotel Orchidea also offers its guests a lobby bar, a sky bar and pool bar, outdoor, indoor and children?s swimming pools, an internet room, billiards, table tennis, a kids corner and a hairdressers. However the real jewel of the Orchidea Boutique Spa Hotel is the spa centre where you will find a large selection of treatments, from all parts of the world, which act upon the body combining the magical powers of seawater and seaweed, exotic oils and plants.
Transfer Time
35 minutes
Swimming Pool
The hotel has indoor, outdoor swimming pools as well as a pool for kids.
Meals
The hotel has a restaurant serving national and international dishes complimented by an extensive wine list. There is also a lobby bar with great lighting and a flower waterfall, a romantic sky bar up on the hotel roof and a popular pool bar with in-pool seating. Last but not least there is the garden BBQ which serves delicious food and drink in the relaxing environment of the hotel garden, surrounded by the trees and flowers.
Accommodation
All have - bathroom/shower - WC - cable TV - telephone - minibar - air conditioning - safe ? internet - (certain amenities may be payable locally)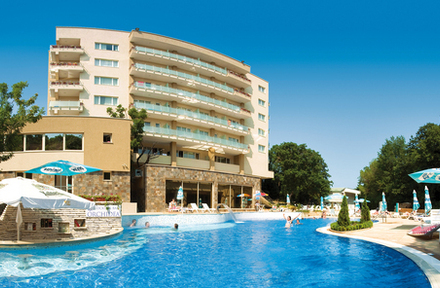 Hotels similar to the Hotel Orchidea Boutique Spa: